A common question boaters in British Columbia ask is how to renew a pleasure craft license in British Columbia. In this post we explain how a pleasure craft licence can be renewed anywhere in British Columbia, Ontario, Nova Scotia or any other Canadian Province.
Every pleasure craft in Canada is either registered or licenced. While there are benefits to registration of a vessel in the Canadian registrar of vessels, most owners opt to obtain a pleasure craft license instead.
A pleasure craft license is a document with a unique number attached to a pleasure vessel. A pleasure craft licence must be renewed every 10 years. The licence number identifies the vessel and assists the Canadian Coast Guard or other emergency services in case of an accident.
The owner must carry a copy of the pleasure craft license on board the vessel at all times. A licence number must also be displayed on both sides of the bow as indicated in these examples: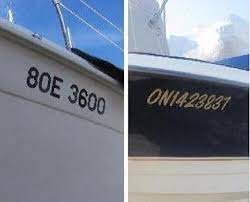 Failure to have an up to date pleasure craft license can result in the vessel owner receiving a ticket and having to pay a fine.
Every pleasure craft license has an expiration date. It must be renewed within 3 months of expiration. In addition, boat owners must update the license if they change their name, address or details of the vessel.
In order to renew a pleasure craft license, a vessel owner must submit necessary documents to Transport Canada's Pleasure Craft Licensing Centre in Fredericton, New Brunswick. This can be done online or by mail.
Here at Vessel Registration Canada, we take the hassle out of the process of renewing your pleasure craft licence. We have helped many boat owners like you to renew, update, transfer or replace a pleasure craft license.
All you have to do is navigate to our Renew Pleasure Craft Licence page, complete the easy to follow intuitive forms, and provide us with the necessary documents via the Upload Documents link or via email at info@vesselregistration.ca.
Please Contact Us today for any assistance with your pleasure craft licence.
Previous post
Next post