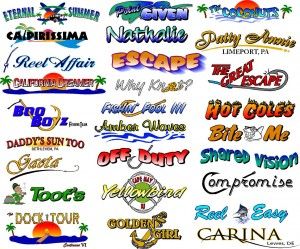 If you choose to register your boat with Transport Canada, rather than simply license it, you will generally be able to reserve a unique name for the boat.
In order to reserve a unique name, you will have to provide three unique names for the vessel. You can also identify which name you like best.
If there is a boat name you really like, we recommend putting down the same name for all three choices, but adding a number at the end of the name for options two and three.
For example, if you really want to name your vessel ALOTTA OCEAN and don't want any other name, we suggest list the three possible name options as
ALOTTA OCEAN;
ALOTTA OCEAN I; and
ALOTA OCEAN II.
This way, if your preferred name is available, Transport Canada will assign it to you. If it is not, you can still have a name that is virtually identical to the name you prefer.
We also offer a unique service where we can verify that a particular name is available and can reserve it for you with Transport Canada before you go through the expense and commitment of applying to register your vessel. Please see our first-time registration page for more details.
Importantly, each vessel must have a unique name so that it could be distinguished over the radio. This means EASY LIVING and EZ LIVING, which could be pronounced exactly the same way, would not both be registered.
There are some other requirements and prohibited words which cannot be used for the name of the vessel:
no registered trademarks or prohibited marks;
the name can't be confused with a distress signal, so no naming your vessel SOS;
no vessel acronyms such as "SV" or "FV" (sailing vessel or fishing vessel).
If you try to register a vessel under the name of a famous Canadian person, city or town, you will need to provide an authorization letter from that person or city allowing you to use the name.
Email us today at info@vesselregistration.ca for any assistance with naming your vessel, exploring the availability of a name you like or changing the name of your registered vessel.
Previous post
Next post